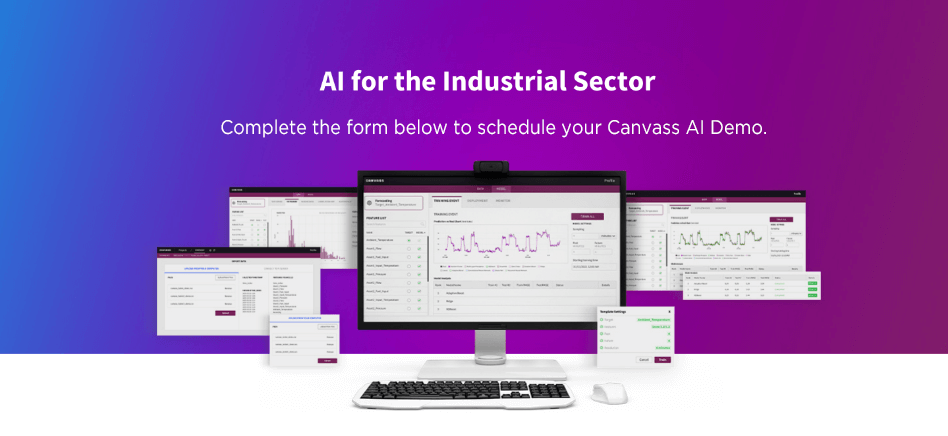 Increase productivity, drive profitability and achieve net-zero targets with the power of AI 
AI designed specifically for industrial engineers
What is Canvass AI?
Canvass AI is a patent-pending no-code, AI-based SaaS platform built specifically for industrial operations. Unlike other solutions, Canvass AI brings domain and data intelligence together, empowering industrial engineers to fast track their AI adoption and value creation – without requiring data science expertise.
Intuitive. Innovative. Industrially focused.
Leading industrial companies in the metals and mining, manufacturing, and oil and gas industries are using Canvass Al to improve key business metrics, such as energy costs, production yield, and greenhouse gas emissions, 12x faster than other platforms in the market.
With one platform, Canvass AI provides all the capabilities needed to apply, explain, and scale AI across industrial operations.
Scale quickly | Increase profitability | Reduce downtime | Achieve net-zero goals
Why Canvass AI?
Built for industrial engineers – No coding experience required

Built for industrial problems – AI platform built for industry

Built for quick time to value – Extract value from data immediately and continuously

Built for industrial scale - Drive AI organizations not AI projects
In 30 minutes you can discover:

Valuable insights into your process manufacturing data

How Canvass AI is designed for industrial engineers - no coding skills required

A live look into how Canvass AI works

And much more!
Complete the Form to Book Your Demo Today
Turn AI Ambitions into Reality
From process, assets to energy, Canvass's Industrial AI platform puts the power of AI in the hands of industrial engineers so that they can increase process efficiencies, eliminate machinery downtime, reduce scrap, drive energy efficiencies, control costs, and more.
Enhance productivity | Reduce asset failure | Improve Quality | Extract deeper insights | 
Take the first step in discovering how Canvass AI can revolutionize your industrial operations.